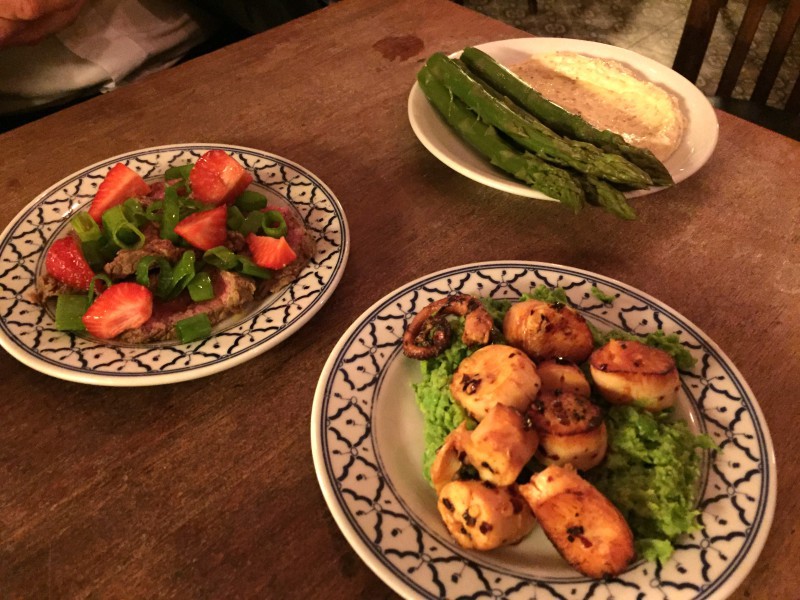 Lucien La Chance is a little bistro situated close to the Batignolles, in the 17th arrondissement of Paris. In rue des Dames, one of the most typical streets of Paris, Lucien la Chance is the "rendez-vous" of all the food lovers and good wine amateurs of the French city. ?
"Lucien La Chance" was named after Lucky Lucianno, the famous gangster but nevertheless you can be sure that you won't get robbed here. ? The food is top quality and the wine list is as exciting as any bank robbery!
At Lucien la Chance, you can order little tapas size dishes and share your meal with your guest in a very relax way. Ideal for apero time and dinner time too! ?
Beautiful sausages, octopus, Iberico ham and top quality cheeses are in the menu the night we visited them but you have to know that the menu changes every day, so expect the unexpected!
The wine list is made with natural and organic wines only from France off course! ?You can order the wine by the glass or the bottle and enjoy your meal in a bistro-like kind of way. The staff is friendly and efficient. You can have a pick at the small kitchen in the back where the magic happens and feel the heat with the cook! ?
This former sweet shop has kept all its original features: the wooden shelves are filled with bottles, books, records and French little oddities that match the particular atmosphere of the bistro. ?
So if you fancy a night with good food, good atmosphere and beautiful natural wines, you know there is only one place to go: Lucien La Chance! You can get lucky there on good food, wine and maybe also on company, who knows? ?