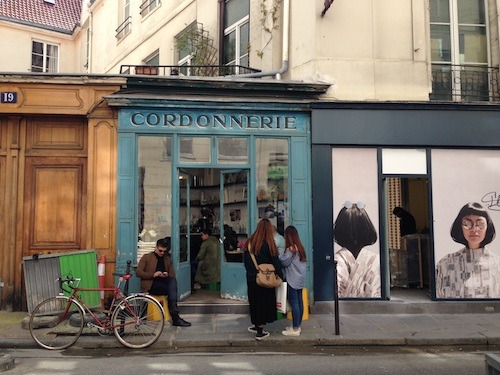 Don't get fooled by its shop sign saying "Cordonnerie", the Boot Cafe is not selling shoes nor mending them. Situated in one of the cutest street of the Marais, this tiny coffee shop is dealing one the best brew of the capital.
Labelled the smallest cafe in Paris, Boot is selling coffees on the go-latte, cappuccino, espresso- coming from the local Brulerie de Belleville but also scones, home-made granola, cakes and fresh fruit salads. Ideal for breakfast and coffee breaks, you will be seduced by the cosmopolite feel of this tiny Parisian gem.
The decor is minimalist but chic with numerous fashion magazines on display and always a nice bunch of flowers sitting on tables. If you fancy drinking your latte in the premises, you can pick one of the two tables inside or just grab a seat outside the shop.
Featured in many magazines such as le Figaro and many Parisian and international blogs, Boot Cafe is the place to meet bloggers and fashion people feeding their hungry Instagram accounts with selfies set in these lovely surroundings. 🙂
Oh yeah and the landlady is American so expect a swift and friendly service in English. 🙂