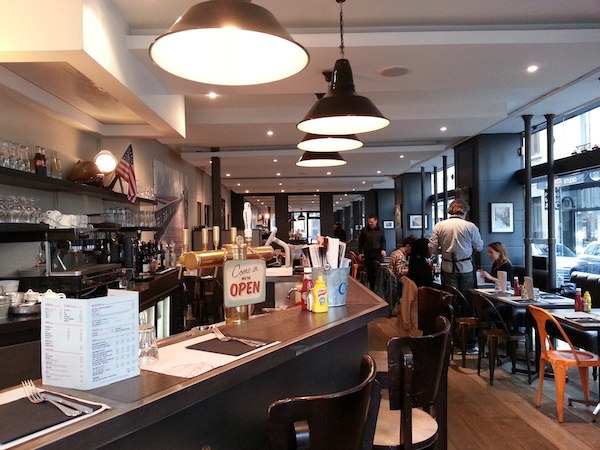 The American flag behind the counter at the entrance is setting the tone, you are stepping into Uncle Sam's territory. Nothing has been left randomly, from the sign "We're open" written in English to the 5 coins required to go to the toilet (it's not for real, you can pee for free). As for the hint of modernity, it is underlined with industrial props such as bowler lamps hanging and black and orange chairs or metallic objects on the counter.
However the menu is nailing it, the value for money is sensible. Indeed a brunch, for example, will include Eggs, Pancakes, Coffee, Fruit juice.
You have big burgers, some of them are proposed with a French touch including cheese (Camembert, Alpin Reblochon, Chavignol…) On the other hand a selection of meals with eggs (scrambled or poached, it is up to you).
The portions are generous, you will get full pretty fast !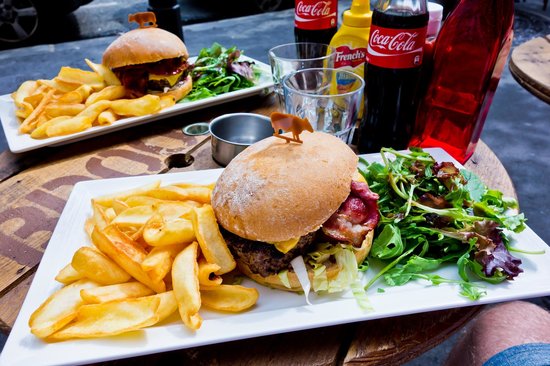 Thirsty? Well, there is no surprise you will have the fizzy drinks (Coke, Schweppes…); but also coffee (espresso, cappuccino) and the alcohol enthusiasts will be pleased to see that a wide range of beers are being proposed (Leffe, Carlsberg…) as well as wines ( Chardonay, Cabernet…) of course with moderation, please !
You may get typical deserts such as the Cheesecake, the Carrot cake or a simple ice cream from Ben and Jerry. You will be hooked on these pastries from the first bite.
In one word, whether you are Parisian, a foreigner or a nostalgic American soul in Paris, you will love that place. After all R.W Emerson said that "Paris has been created for the whole world" and that is why somehow you will never be too far from home.