29 September 2017 | Food & drinks
Eating in the dark with blind people

"Dans le Noir ?" (literally: "in the dark") is a nice concept of restaurant: you get to eat in a complete darkness, served by blind people.
When you enter the place, you will first tell about your allergies because in this place you eat a completely surprise menu. Then you will be introduced to the person (blind) who will be in charge of you for the evening.
Your guide will explain to you the concept, then you put your hands on her shoulder and you enter into the mysterious dining room in pitch darkness. It feels like a very large dining room (~ 100m² roughly) with lot of long tables. Your guide will guide you to your place where you will sit and wait for the meals.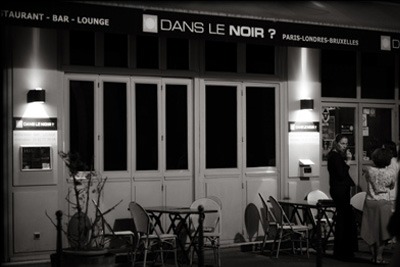 Things to do "Dans le Noir ?"
As you will have no idea on what you will be eating, the challenge will be to guess. But believe us, this is quite difficult :). It changes all the time so don't expect to find it on internet either. We can just tell you that our meal was carrots with mashed potatoes and some salmon. It does not pretend to be high gastronomy cuisine, but it is tasty, all fresh and made on site and you will have enough to eat for your money.
The atmosphere is great even though you will not be able to see anything. Everyone around is chatting and laughing. You get to meet and talk with people without a single clue on what they look like, which is quite unusual. You can also have a quick chat with the waiters asking them how they manage to find their way in the room.
Ultimately, you will go back to the light and the floor staff will tell you what you had in your plate. It can be a bit scary if you are claustrophobic or similar, but it is a one life time experience to try ?
They also have restaurant in many cities: London, Barcelona, Madrid, and franchise in Auckland, Melbourne, Nice, Nantes and St Petersburg … so feel free to try it somewhere else if you don't have enough time during your Parisian trip! 🙂