23 October 2017 | Food & drinks
The restaurant with a semblance of a worldly salon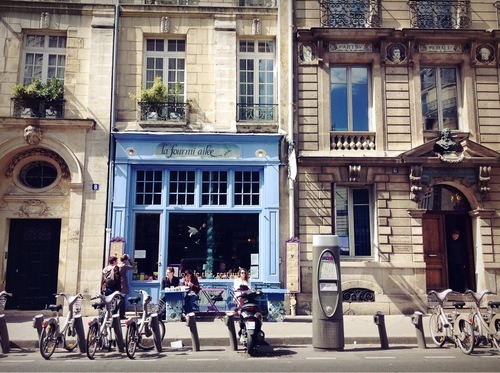 The front door of La fourmi ailée and its tables before the entrance show undoubtedly that it is a restaurant, well it is … However when you enter the spot you see shelves and books, as if you were expecting to meet your scholar acquaintances 😉
The reason for that setting is that a former feminist salon was held in that place years ago. Now it turned to be a warmth restaurant combining the primary colors like yellow couches and red writings on the walls. But the cachet of the old salon was kept through old books on shelves in order to set itself apart from the numerous restaurants 😉
Indeed located in the core of the Quartier Latin, an area packed with  restaurants, the best idea is to stand out from the crowd betting on originality. I saw most people coming with their friends, probably because they have longer couches than individuals seats or set for two, but you still can come with your lover or else. The place is quiet for it is far from the noisy boulevard and it is close to a public garden.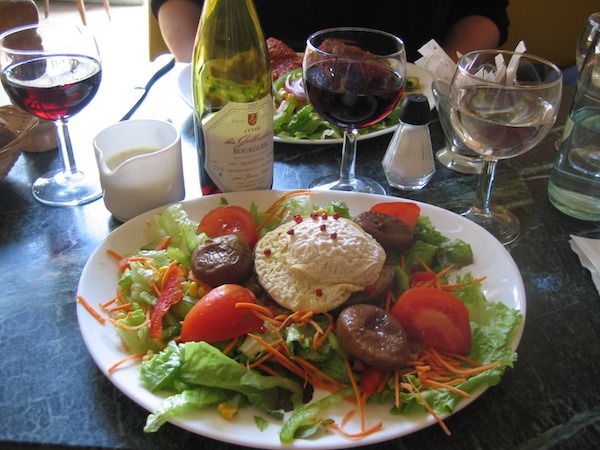 Thus a tranquility comes out from the place so feel free to rush at it to eat something. What about that something you eat? 😉
Here are the things: if you are thirsty you have Chinese teas ( with Jasmin and flowers…), you have hot drinks (Hot milk, Hot chocolate…), but also wines and beers (Malibu, Red Martini, Heineken…).
Regarding the meals, the portions are really generous and I mean it, I struggled to finish my food last time I was there. Salmon and Salade César for your starter, delicious quiches with spinach or mushrooms. Meats and fish is served with vegetables or olives.
The menu is going to make your mouth watering for sure 😉
Last but not least, the dessert goes from the Tarte au citron to the Soupe de fruits rouges. In any case, the brand can brag at least for her homemade meals and desserts with affordable prices.