If you feel like taking on board a spaceship in Paris, you have to go to L'odyssée .Stars wars enthusiasts will love the place. Flat screens on the wall, squared-shaped windows…the type you find in a vessel 😉
The children are mesmerized by the original place, lingering for a moment staring at the place before eating their meals. Yet, what makes the beauty of the spots we picked up for you is the fact that they are one of a kind in Paris. You hardly ever go to eat in a restaurant that looks like a vessel. Although the decoration is quite dark, the outer space atmosphere is respected and the staff doesn't lack humour. Indeed, the menu is proposing a wide variety of crepes and the name of the food is written with the Alien language (you have the translation for sure)
That restaurant is a real "crepe temple", you have the salty buckweat crepes, let me give you a few examples: the Caprica with ham, cheese, egg, salad; the Aquarius with salmon, leek fondue and chive; the Solaris with saussage of Montbeliard, potatoes, emmental and caramelized onions.
As you can see we have weird alien names but the content is delicious and studied !
Let's continue the culinary trip, regarding the things "that are not salty".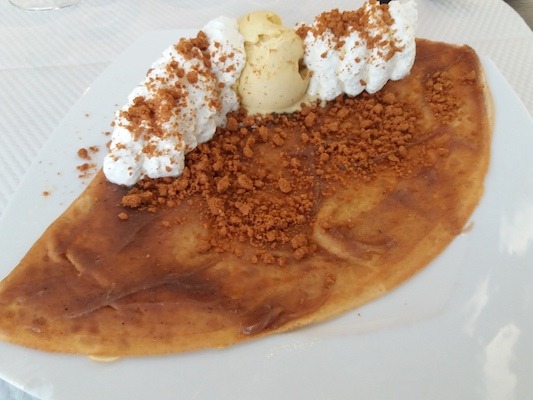 You are to enjoy the ice creams cups offering crushed cookies, vanilla, speculoos, whipped cream… yummy ! I swear to God that it is delicious but above all you will be full quickly.
The sweet crepes are all the more a feast for the eyes and for the mouth. And of course they are homemade, you can have Maple syrup, fresh banana, chestnut puree, strawberries, roasted almonds… the list is quite long but meanwhile you will have to content yourself with the sneak peak of the menu.
I hope you will come in a hurry to that place but for the moment: "May the force be with you" 😉