26 September 2017 | Nightlife
A nice peniche to party !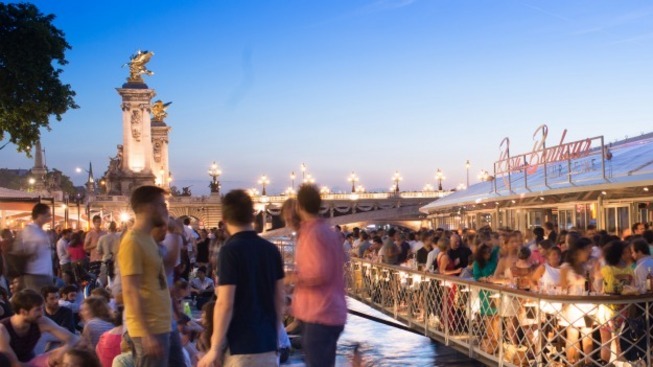 The place is located on the "quaies de la seine" on a peniche near the pont Alexandre III.
Cafes, bars and nightclubs have opened on this place for the past 3 years. And this one is a true gem in Paris !
The best is to come in the late afternoon as you can have some charcuteries with cheese and wine or beer (champagnes too!) there.
Indeed, there is a limited selection of great beers (white, blond), wine/champagne bottle, Ricard and some alcohol. And the best is for the food : you have a corner dedicated to fresh appetizer like houmous, tzatziki, ham, olives, cheese etc.
Plus it serves great pizzas in summer with their pizza oven.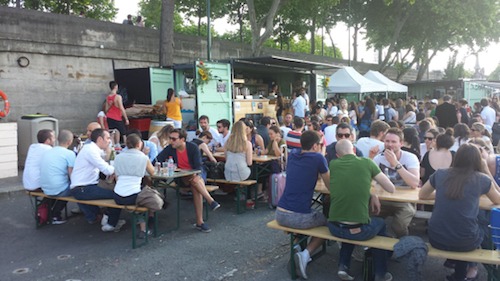 Inside, you can sit on tables or you can stand around a barrel. You have a really nice view of Paris – on the seine and the Grand Palais (you can see Notre Dame too!). And it is a panoramic view ! One of the best in Paris !
Outside, there are few barrels and standing tables on the peniche. And on the street just in front of the pontoon, you have tables (a lot) near the huge pizza oven and the outside bar.
Plus, the music is nice. On the afternoon you have typical French music and sometimes there are chill concerts. On the evening, it is more chill electro house. The DJ takes place usually at 8pm.
Having a drink at the Rosa Bonheur sur Seine is a really fun thing to do in Paris. All the ingredients are gathered to have a great time !
However, careful at the time you want to go in ! Indeed, the peniche can be really crowded after 8pm. So, you should expect to have a 30 minutes queue in order to discover the place ! And it is select too (when there is a queue).
Trust me it worths the trip 🙂
Finally, you can go visit the nightclubs near there afterwards (the Faust for exemple, which is located just 200 meters on the right).