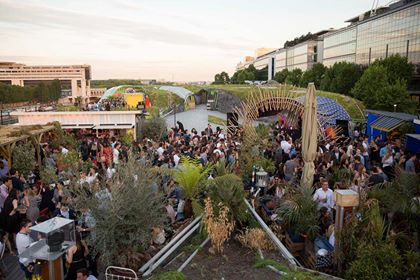 If you want a cool thing to do at night or during the afternoon, this is definitely one of the best spots to chill in Paris. Communion is both a terrace and a club. 2 famous people run this gigantic place just in front of the (Lionel Bensemoun who runs "Le baron" among others and Jean-Marre Tassy who is the founder of the renowned festival on Corse : Calvi on the rocks).
Truly, you have everything you need here :
ATMOSPHERE
This vast rooftop is furnished with wooden chalets. Is it really spacious and there are many
Tables outside and inside. You shall know that many people who come here really know the place. Thus it is maybe not the best place to meet new people, as there are many groups of friends who are here to chill with each other. For the music, it is electro. Really good electro music.
DRINKS
The bar is not well furnished. You have mainly wine, beers, rum, and mojito here. And it is not cheap at all ! 40 euros a bottle of wine and 9€ a pint of beer. Well, the place is great for sure. Though it would have been better if it offers enough drink without to have to spend that much …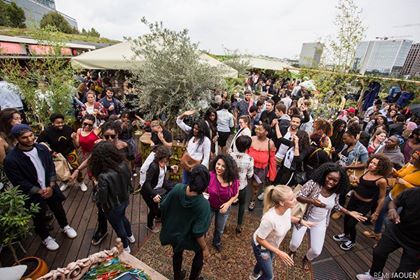 RESTAURANT
I have never tested the restaurant here. I guess it worths a try if you are a meet lover.
VIEW
The view is magnificient here. You are in top of the "cite du design" in front of the Seine. You can see the Bibliotheque Mitterand and Notre Dame from here. It is really a nice place to go in Paris !
Well, just be aware that many clubbers have deserted this place because of the bouncers downstairs. Indeed we have seen very long queues with people not accepted on this place while it was nearly empty upstairs. Because of this, they recently changed the name of le Nuba to be called ex-communion. It is kind of a communication washing and we hope they will change their way of accepting us in their welcoming place!