09 September 2017 | Food & drinks
A hidden restaurant with a beautiful terrace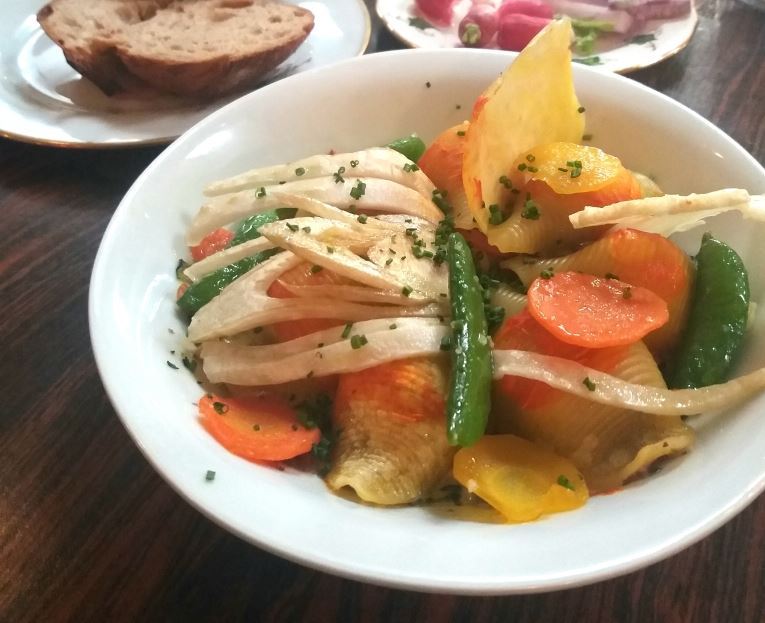 Their slogan "home away from home" is embodying the concept and the state of mind hovering in the restaurant "le Derrière". And with good reason, you have different sort of original seats in the place.
Well, ok you may think all of the restaurants in Paris have seats. But have you ever been to a restaurant where you can sit on a double-bed, in a real room ? I bet no, and wait you have a television, a chest of drawers in that same room and double vanity units in the toilets . Anyway just to tell that you will make yourself at home 🙂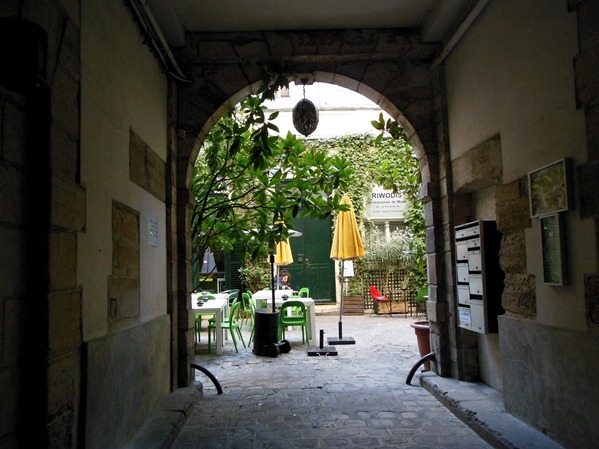 It's a bit hard to find the place , that is why it is called "le derrière" (means behind). It is actually behind another restaurant "le 404", and before you get inside the place you will pass a very charming courtyard welcoming you with tables and chairs.
Afterwards, move the curtains and get into the inside…an inside that doesn't have a lack of space and taste. The colors are joyful and the decoration a bit unusual, a setting that forces you to look at every corners 🙂
Yellow walls or stoned walls, paintings, vinyls of the destiny's child carefully displayed and old books in a case. A very eclectic surrounding that stresses a diversity in the taste and a will to mix different sort of universes. In the middle of the first floor you have a large table with its 8 chairs, the type we find in a kitchen.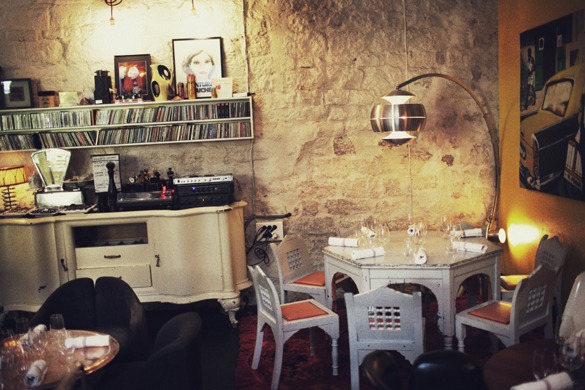 You have velvet armchairs with a round table in-between. If you wait too long for your orders, feel free to use the ping-pong table, or to change the vinyl.
The menu is as high as the beauty of the place but follow simple patterns. The "homemade" style is in the house: stuffed pastas and its vegetables, cod, roast pork, chicken, salmon and you are offered an appetizer when you sit (radishes and olives). Sometimes they bring you a large pot directly on the table and let you serve by yourself…just like at home 🙂 !
The price is good, not to pricey but not cheap as well. You pay a bit for the decoration obviously?
A young and stylish staff, a bar and background music being aired are the prevailing components in that place which are definitely worth a visit, with your wife, kids or friends for a brunch on sundays !